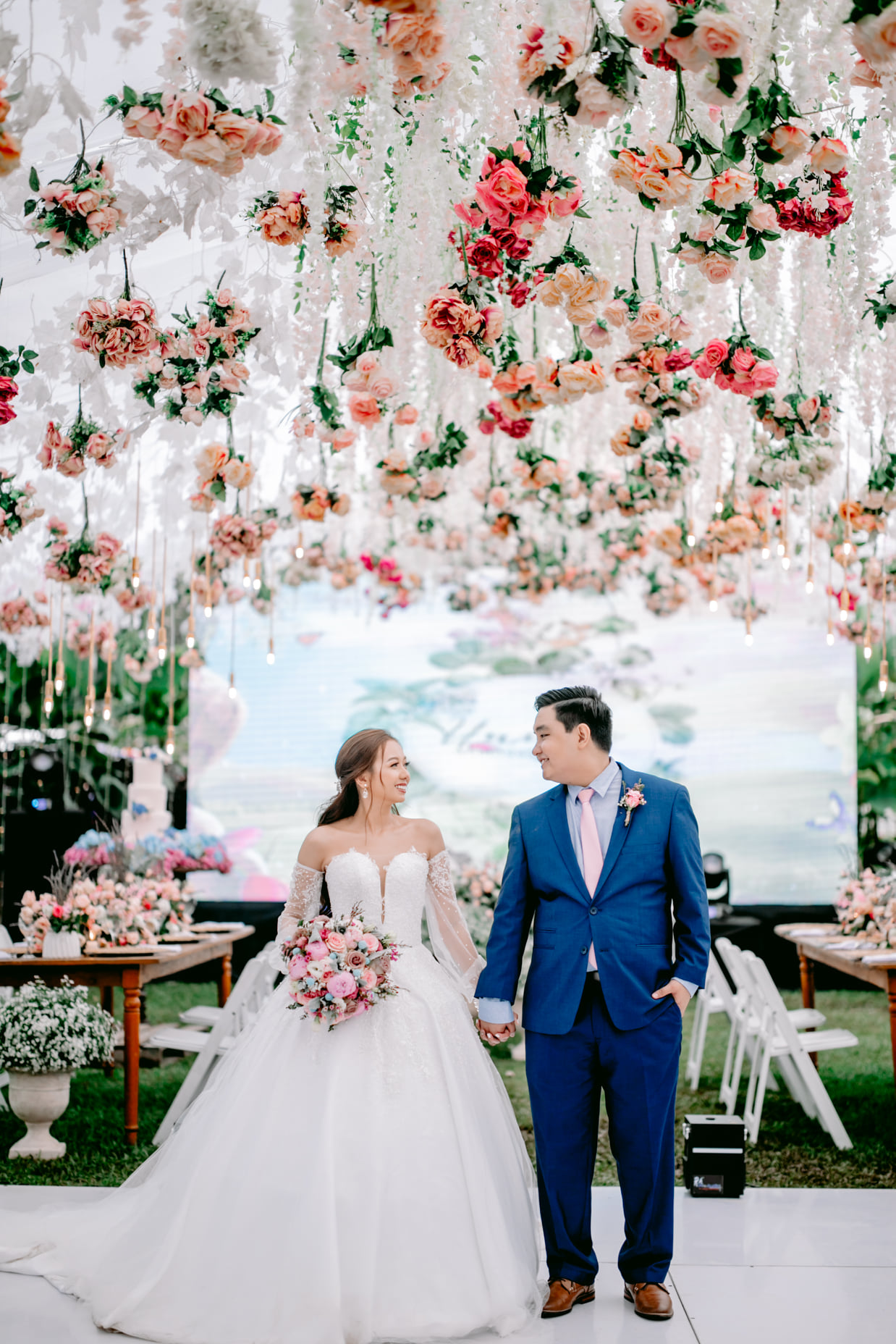 It has been almost 3 months since I got married. I was supposed to blog about our wedding preps, wedding tips, and whatnots. But I was so swamped since the start of the year. I have a full-time job that pays me and had a full-time wedding planning for months that took my money away. Two things that have opposite effects on my bank accounts.
I got a little time today so I decided to start writing about our wedding. This time, it's gonna be all about the traditions that we intentionally skipped. While our parents are very traditional, AJ and I are very unorthodox and quite contemporary. We are both typical Taurus. So you know, both stubborn. Before we started our wedding preps, there were two conditions I asked him: no acceptance of single penny from our families or friends before the wedding and no debts after the wedding. Well, it's not that I didn't want help from anyone, but my point was that we both wanted to get married so we should have thought about financial readiness. I am not against people who willingly accept help or assistance from their loved ones or parents who insist on paying for the celebration, but I am just different. I wanted us to spend our own money so our parents would know that we are ready for marriage – financially, emotionally, mentally, and spiritually. Another thing was that I didn't want any unsolicited suggestions. We all know that the tendency when someone offers help is that they think they have the right to suggest anything. My bride moment would flip out if that happens to me. I am very lucky that AJ supported my decisions and just wanted me to give the wedding of my dreams, which almost didn't happen mainly because of the pandemic.
Now here goes the list of wedding traditions that we intentionally skipped/broke:
Unconventional Pamamanhikan. Let's start with the most common Filipino pre-wedding celebration. As unica hija and unica hijo in our families, I knew our parents wanted to have this in a very traditional way but I am not fond of grand celebrations. I don't want to have that much attention of people towards me. It was probably also because our parents have already met a couple of times before we were engaged so I didn't feel the need for formal introductions. We just had our pamamanhikan in a hotel over dinner. I only have one sibling and he did not even join us and that was fine by me.
Gown fitting with the fiancé. Years ago, I imagined to have my bestfriends come with me during the gown hunting/fitting, but I had no choice. I bought my gowns in Manila and I had no one to accompany me but my fiancé. He even helped me decide what design looks good on me. Well actually, it was more of getting his approval. I have already decided on what I wanted to wear.
Seen the groom during wedding prep. I couldn't recall the reason why he showed up into my room during our morning prep but I didn't mind at all because he was still wearing his sando and shorts. But even if he was already all suited up when I saw him, I would still get the same excitement when I walk down the aisle.
No veil covered on bride's face. For some reason I never pictured myself wearing a veil that would cover my face on my wedding day. Aside from making it harder for me to see people's reaction while I walked down the aisle because I have such a bad eyesight, I opted not to cover my face with the veil because AJ and I have lived together before we got married. So even if we knew that we wanted to end up together and we had our reasons why we did it, I admit that it was not right no matter how mature we think we are. I did not want to look pretentious and reserved on my wedding day. Hence, the veil was all laid to my back. But that was just my personal choice.
No flower girls and little bearers invited. As much as I love kids, I wanted our wedding ceremony to be intimate, solemn, and adult-only. I didn't want to take chances of a little girl throwing tantrums because she decided on the last minute that she wants to ruin the bride's mood or a little boy running all over the place thinking it's a playground. Besides, they were still restricted to go out at the time. Another reason not to include them.
No bouquet throw. Well, aside from not wanting to throw my beautiful and heavy bouquet, my single girl friends are all too shy and I know they don't want to participate into games. I don't hate them for that because I am also one of them. Plus, even if I don't believe that whoever catches the bouquet will get married next, I did not want to put some pressure on my friends and get them teased. I know I'm KJ but my wedding, my rule.
No garter throw. Due to the ongoing pandemic, I don't think it is allowed to have this segment during weddings. We tried to be sensitive to some of our guests, too, who were quite paranoid at that time and just wanted minimal interactions. Although we did prepare a garter but I totally forgot to wear it and we didn't want the reception to take too long because we were so exhausted already. We just wanted to have dinner, go back to the hotel, and get ourselves more than 10 hours of sleep.
No dove release. As cool as it may have been to include it in our wedding traditions since my name literally means dove, I wouldn't want to take the risk of fainting on my wedding day. I have phobia in touching animals of all kinds with my bare hands so I definitely did not consider the dove release. Also, to be honest, AJ and I don't even know the essence of it.
No dance with bride's father. Our family has definitely no talent in dancing. It was just right to spare ourselves from embarrassment. I know my father loves me but he would vanish into thin air when he is asked to dance even if it is for his only daughter's wedding. I am so glad our wedding coordinator listened to all my special requests. Else, the father would be gone before dinner.
No money dance. We did not look forward for gifts so we agreed not to have a money dance or even a gift registry because we already have a home with all the things that we need. No bragging intended. We invited our guests because we want them to witness the celebration of our union, not to expect something in return from them. But of course, we appreciate all the blessings we received in a form of cash, check, and something useful for the house.
I am not a superstitious believer. That is the reason why some wedding traditions didn't really matter to me if we skipped it or not. Marriage does not depend on what happened during the wedding, but it is about what you practice after the wedding. I am happy with how ours turned out. The planning may have almost taken a toll on me, but at least I was stress-free on the big day.
Now if you ask me if our families were fine with us skipping the traditions, well, as of this writing we haven't heard them complain yet. Perhaps because we planned for everything and just asked them to show up on the day. Kidding aside, we're blessed that they are supportive of us. My parents gained another son while my in-laws gained one more daughter. Okay, time to get them a grandchild.