Omg it's May already. How time flies! It's his birth month again. I am still thinkin' what should I get him for a present. Hope he's not reading this. Speaking of birthday, mine was so memorable! All I ever wanted was to travel on my 25th year. I feel old huhu. And so my wish came true. My boyfriend and I, together with our friends, went to Boracay Island. I know it's mainstream but whatevs. Our departure was on Thursday night, but was delayed for so long. I was bored and sleepy. Good thing I brought my scribble notebook and a pen. Well, I always have a pen in my bag. While I was so busy scribbling and humming, AJ started to record what I was doing. I thought he was using FB Live but when he suddenly pulled out a gift from his bag, I jawdropped. I had no idea how it fit in his backpack. The box was wrapped so cute, it even had a ribbon. Sure enough he was not the one who did the wrapping part because boys… Hahaha! He wanted me to open it right away. Y'know he's always like that. He's more excited than I am when he throws me a surprise. Sometimes he even gives me hints. He goes like, "Com'on, open it Babe! Open it! You're gonna like it! You can use it for your artcrafts…" blah blah. Most of the time I tease him. I do not open it if he keeps on nagging. Okay, going back to the gift, I love it!!! I saw it in Scribe at SM Cebu but I never planned on buying it. Girl, way too expensive. I'm not gonna have lunch for two weeks if I'm buyin' it. I don't know why he bought it. I even forgot about it. Pricy things do not stay longer than two days in my mind. Lol. I only asked for a phone case when he insisted me to tell him what's my birthday wishlist.
When we arrived back in Cebu, he handed me another gift again. You know what's inside the two presents? Keep reading.

I told him I don't want to open the gift yet but he was so persistent. So I forced a smile when he took a shot. Just kidding! I was excited to open it but not in the airport sweetie.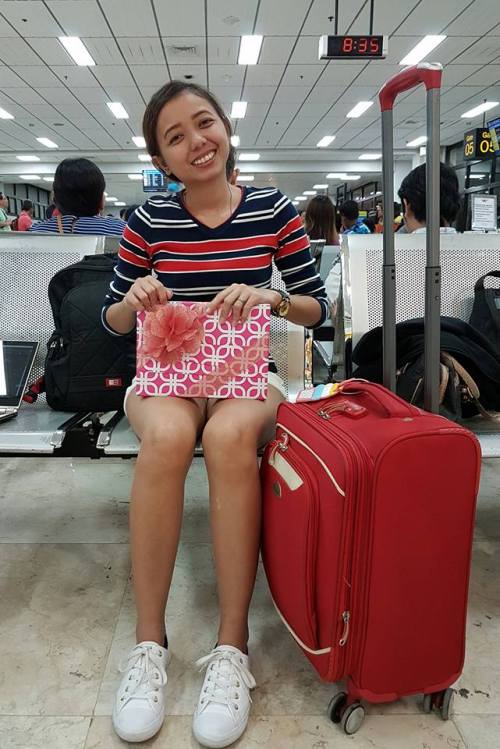 And again, I gave in. So here is what's inside. IT'S A CALLIGRAPHY SET!!! I repeat, A CALLIGRAPHY SET! I was gonna scream but we were in public so I just hugged the gift and kissed the guy on the cheek.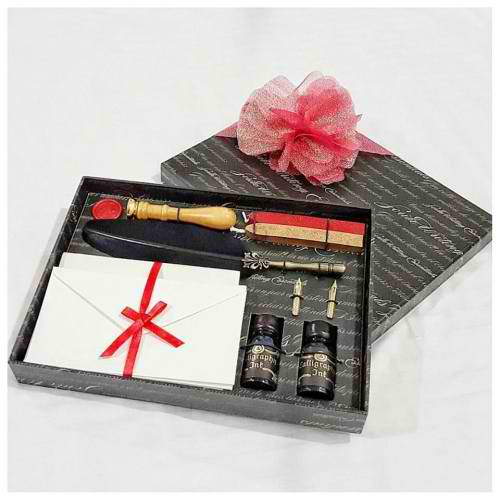 On the day of my actual birthday, we were supposed to have lunch with my family, but then there was a change of plans. My relatives from Manila came by and my parents had to entertain them. So mama told me to just celebrate with my boyfriend. On our way to the dining place, he was filming me as I stepped into his car. I knew he had another surprise. Way too obvious, sweetheart. I thought he was gonna give me flowers, but whoah! It was a huge box. When he handed it to me, it was so heavy. I thought it was a microwave oven. Why would he give me such a thing, I thought. Okay maybe he wanted me to learn how to bake but nah, he knows we're both not into baking. Then I thought it was a box full of art materials. But why so heavy man? I gave up guessing.
Okay, here goes myself leaning on the box bigger than me. Lol.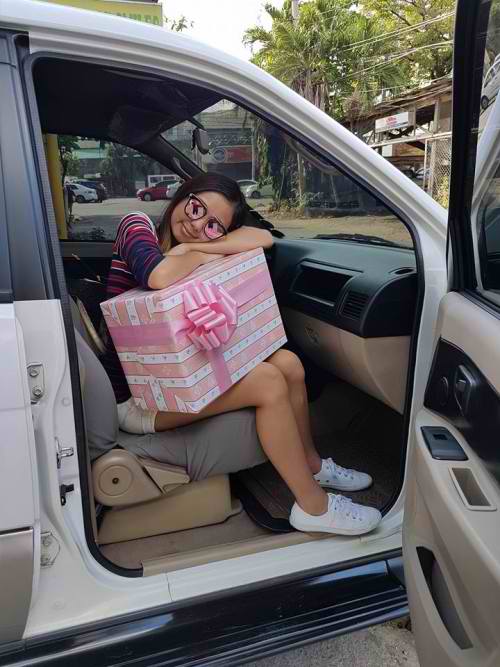 Aaand here's what is inside. It's the die cutter I've been dreaming to have. I saw this on Youtube. If you're into arts and crafts, you know how this works. I've been looking for this in Cebu but couldn't find one. He ordered it from US. I'm cryinggg. This is a must-have for my little business.
I had the best birthday ever! Boracay blog will be up soon.