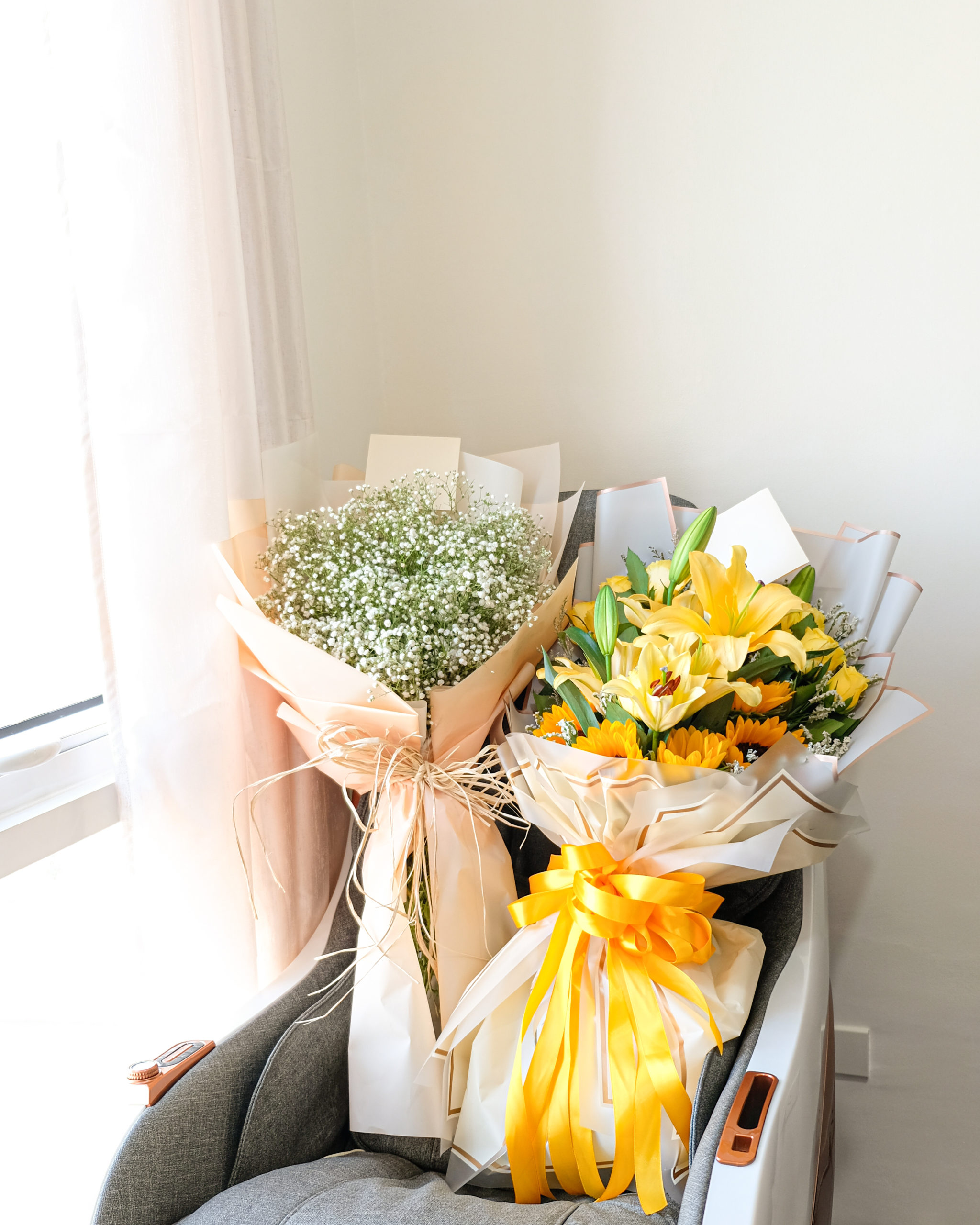 I couldn't count how many times I pulled out my laptop and attempted to write on weekends, but I would always end up sleeping. A few days ago, I celebrated my birthday. So here I am, trying to share some happy moments.
At around 6 in the morning on April 23rd, I took a quick break from work and sat on the massage chair facing the window. Yes, we invested on a massage chair due to our work setup. Both my fiancé and I work from home and most of the time, we render more than 9 hours of work just sitting. You could imagine our constant back pain and numb legs. Not to mention that our office chair isn't ergonomic at all. Anyway, I waited for the sunrise that day and prayed to the Lord. I asked for forgiveness and I thanked God for the life that I have right now. I didn't ask for anything other than a stress-free birthday.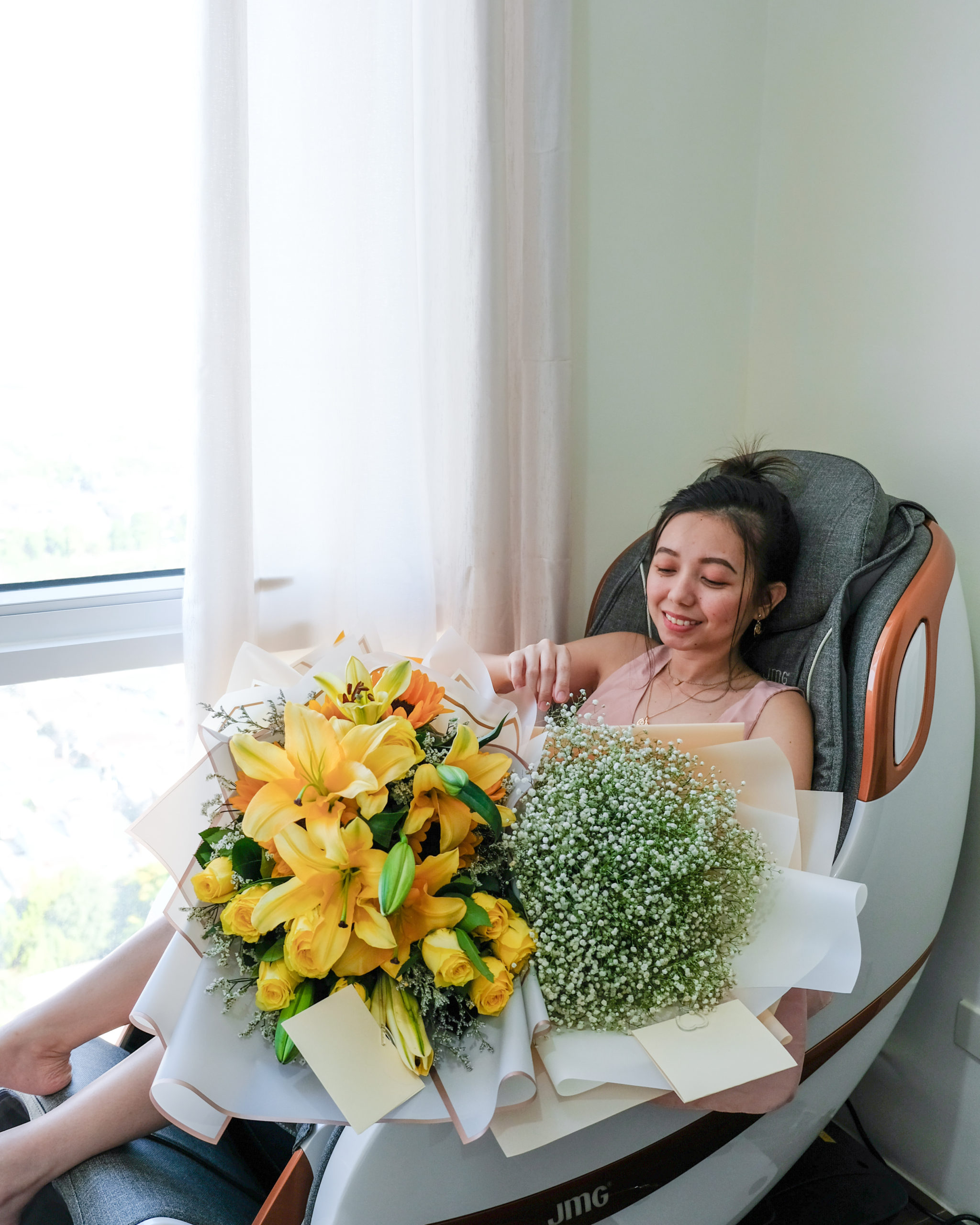 While I continued working, my workmates surprised me with a cake. They had it delivered to our home, although I kind of wished I was able to share it with them. It feels so great that I have thoughtful workmates who turned out to be really good friends of mine. A few minutes later, the fiancé handed me two bouquets of beautiful flowers. I didn't really understand why there were two bouquets. I was thinking if we were celebrating another occasion but nope, he just wasn't satisfied with one bouquet anymore. I'm kidding. He explained it to me because that's what we always do after the surprises. We like to tell the backstory. He knows I like mini flowers but he also wanted to give me something of his own choice. And oh, it came with cards. This time, there were handwritten notes that melted my heart. I remember there were a couple of times when his gifts came with greeting cards and it would always excite me to read the notes only to find out blank white pages. I wanted to get mad at him but I just laughed it off. He's not fond of writing, I know. We're very opposite. I could write him a novel if I wanted to, lol.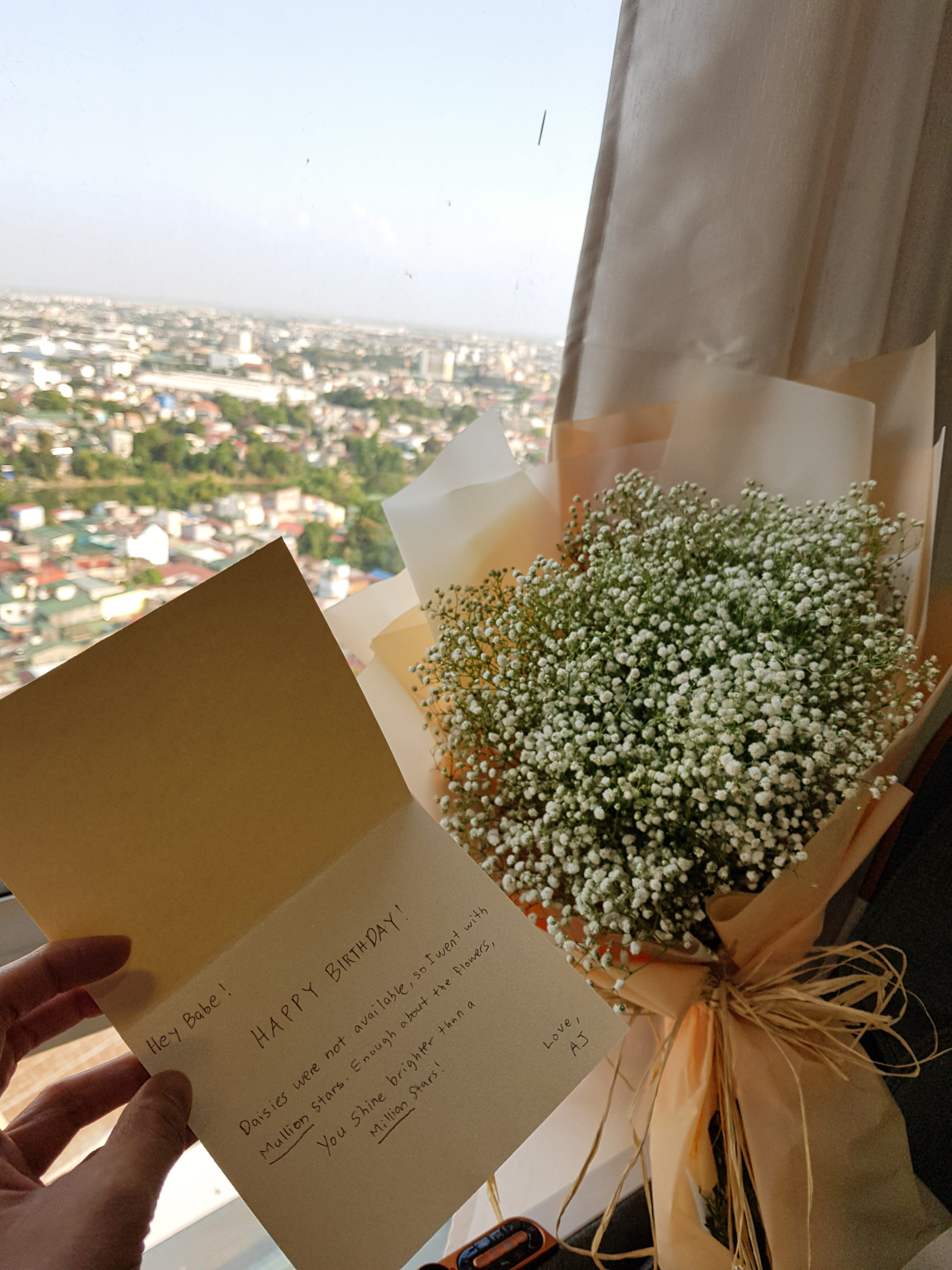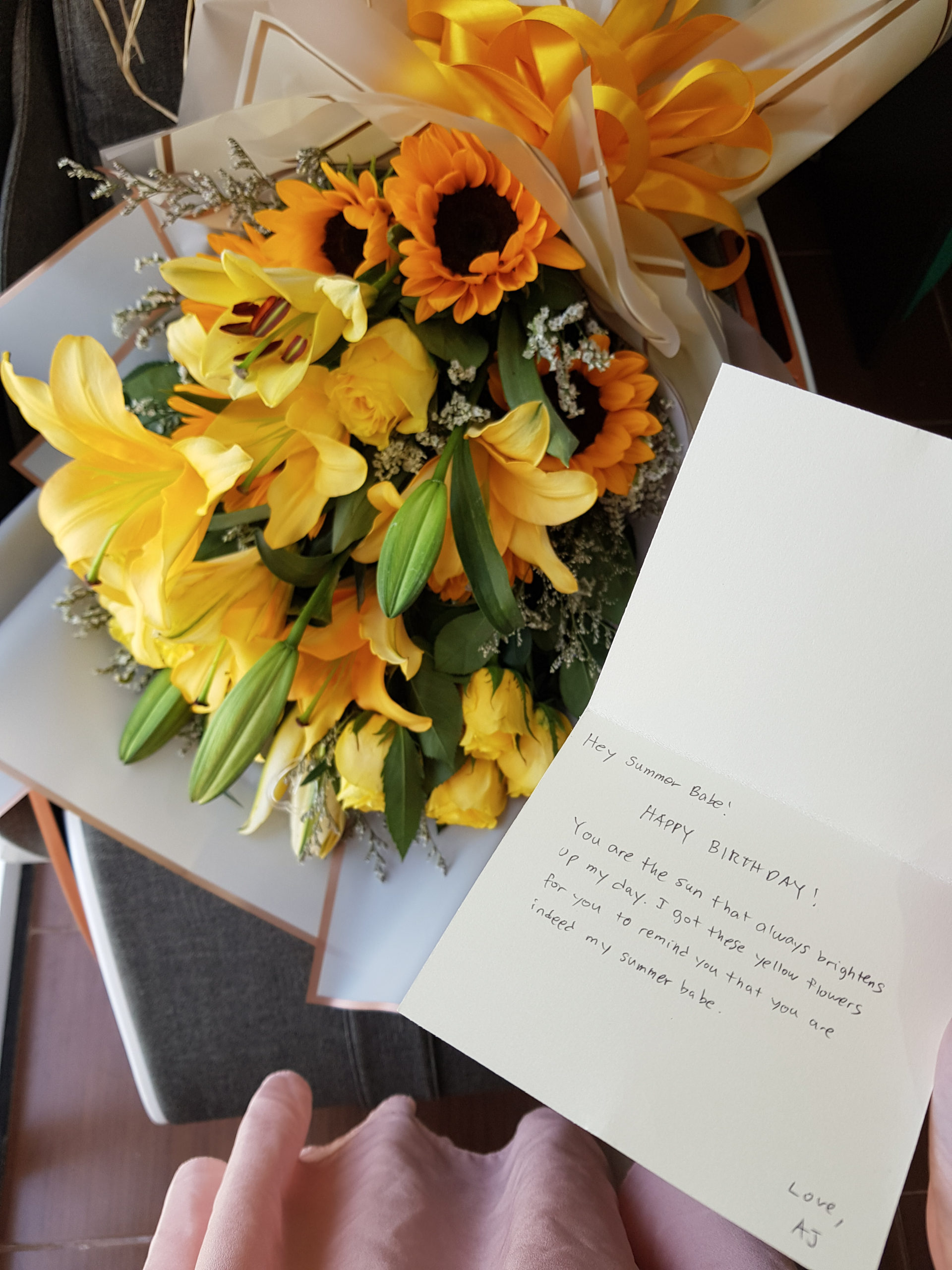 I cooked garlic butter shrimp, ordered my favorite seafood, and another food for the fiancé because if I didn't mention, we also have an opposite taste when it comes to food. I wanted to order lechon enough for just the two of us but I couldn't find any near source. Ugh, how I miss Cebu. Lechon is everywhere.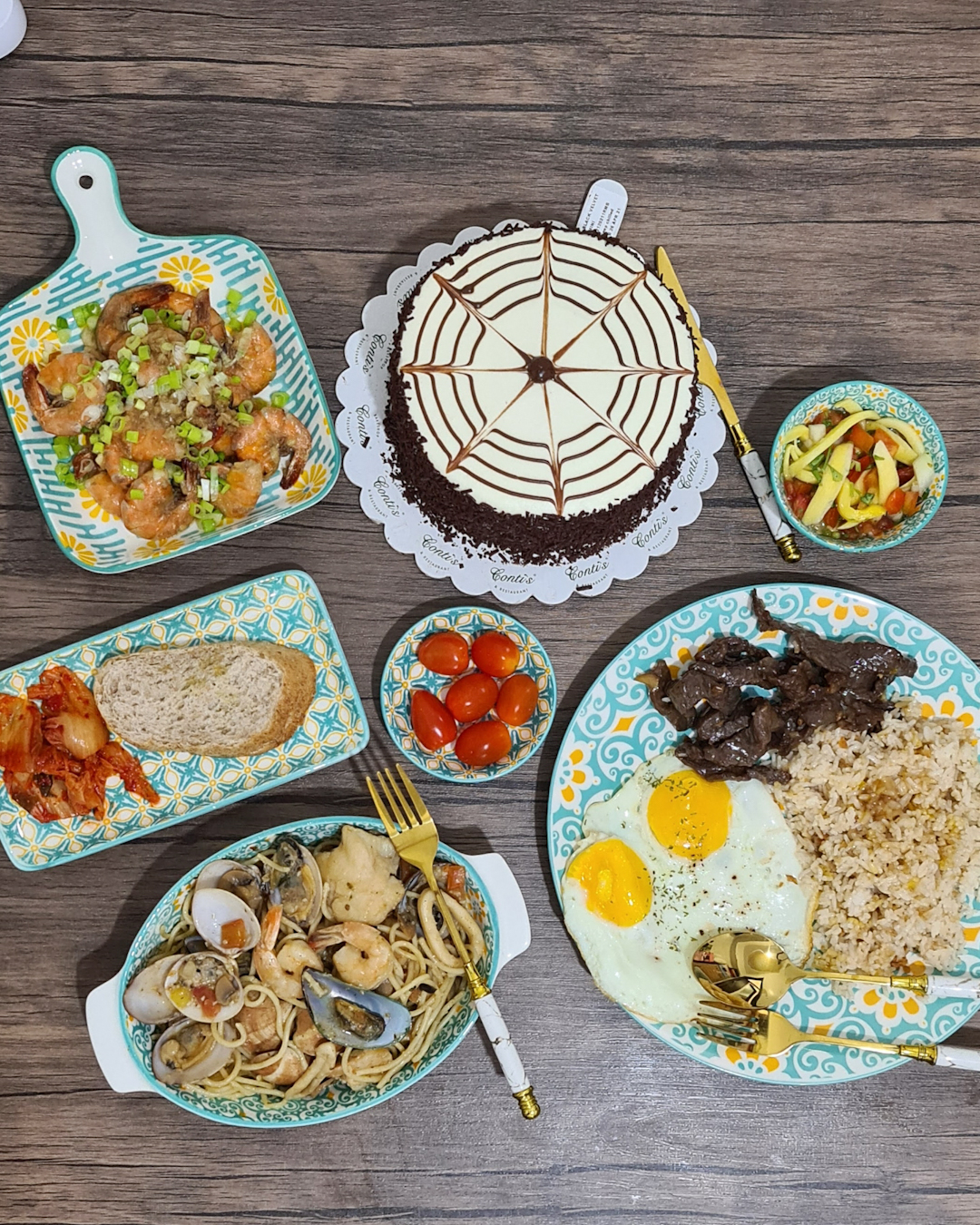 I dressed up and put on some makeup. Took a lot of pictures and ended my day with a happy heart and peaceful mind. I received a lot of birthday messages that I didn't get to reply to all, but it warmed my heart reading those greetings. I am now 29, just so you know.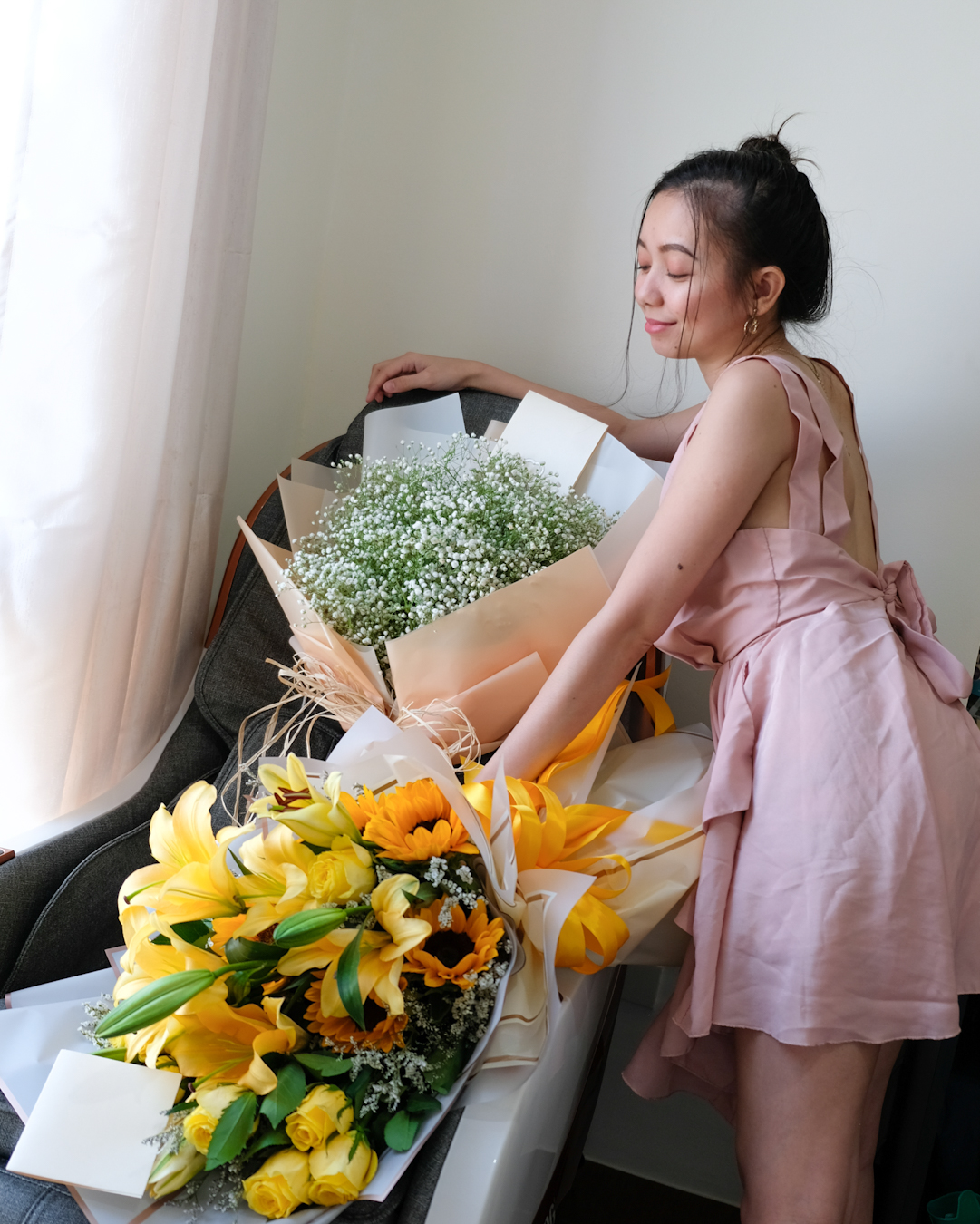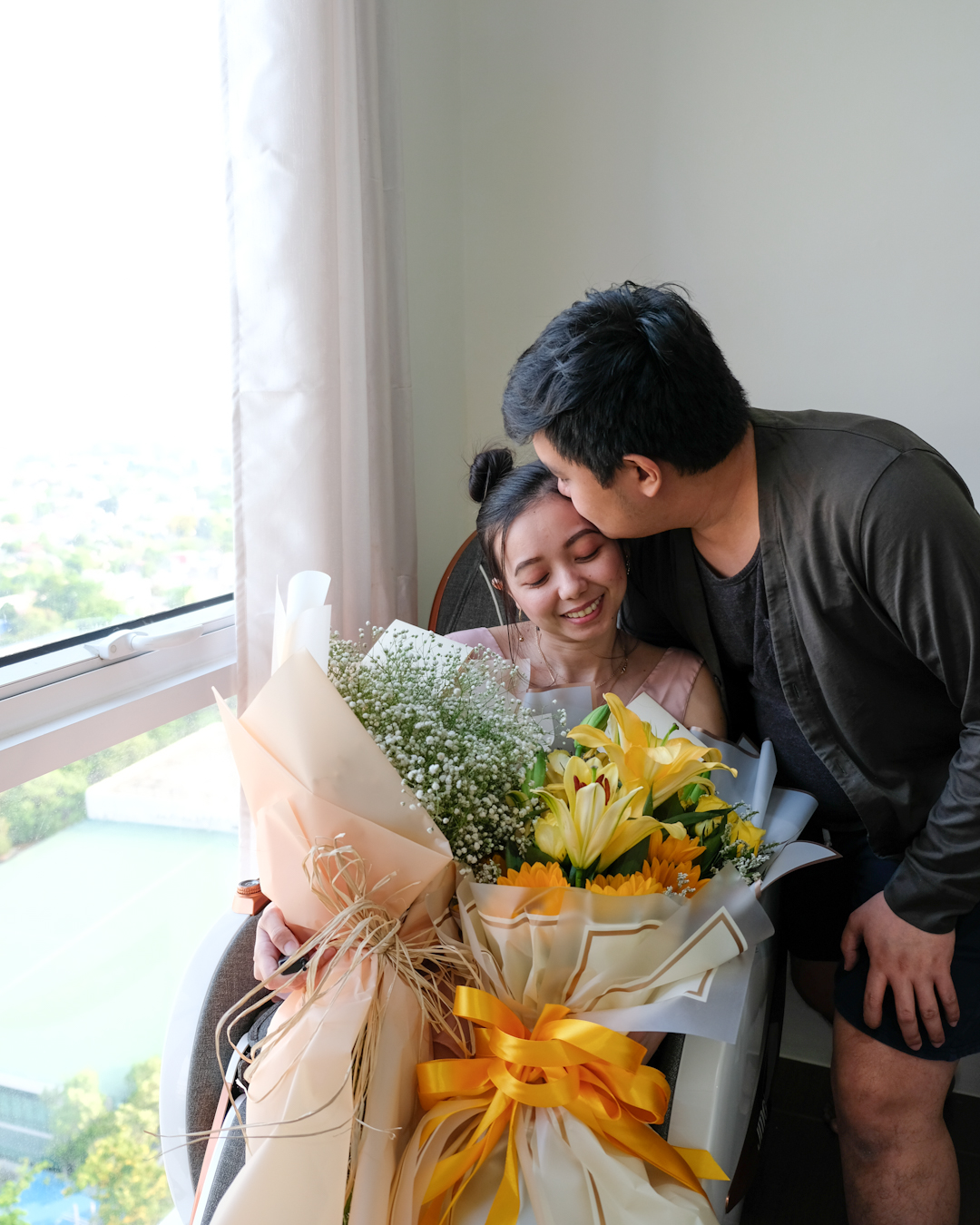 So anyway, another good news. My boss announced last December that our WFH setup is permanent. I mean, it has always been my dream to wake up and start working without worrying how to get to the office in less than 30 minutes. I used to allot 2-3 hours of preparation before work, but now I don't even get to wash my face sometimes and there I am, answering emails and attending virtual meetings. My workmates really have no idea how I actually look like while working. I am usually in pajamas, draped in a robe, layered with a hoodie, and socks on. Sometimes I would even wear gloves. Now if you think of it, there's not much difference between the weather condition of my colleagues in US and me in the Philippines, lol. This roommate of mine cannot live without the AC on. We try to compromise on the temperature but even the 24 degree Celsius would shiver me. I will never get to migrate to a cold country. I would freeze to death. Meanwhile, he wears a sleeveless shirt to sleep and doesn't like the blanket. I think we should have two separate rooms when we live in a bigger house someday or… I can just wear winter clothes all the time. That's way cheaper than building two rooms, right? We can save money and save our marriage.
On another note, I am opening up an online shop again soon. I'm quite excited to start a small business. Nothing fancy. I will still be selling clothing items because I don't think I will ever get tired of clothes. Well, here's to hoping for happy days ahead.